This track is named for the two river valleys trampers walk through over its course, starting up through the Travers River Valley, across the Travers Saddle at a height of 1787 metres, and then descending through the Sabine River Valley. Early on, the track meanders through open tussock fields where early European settlers grazed their animals but soon you move into untouched beech forest, finally moving above the bush-line into subalpine scrub. On the descent you will find tussock in the higher altitudes followed by beech forest leading down to Lake Rotoroa.
Distance: 80 km
Approximate Time: 4 to 7 days (loop track)
There are 6 DOC huts along the main track as well as several huts along side tracks which branch off the main circuit. The required walking time between each hut varies dependant on weather conditions and personal fitness, but in some cases a day's tramping can last as long as nine hours. Most trampers start the track from St Arnaud and walk through the Travers Valley to the Sabine Valley because the Travers Saddle is easier to cross from the Travers Valley side.
Transport Nelson to St Arnaud/Rotoiti Lake Head
Approximate time: 1 hr 20 min with Trek Express (e-mail)
St Arnaud to Lakehead/Coldwater Huts
Approximate time: 3 to 4 hours
Depending on which bank of Lake Rotoiti you follow you will end up at one of these two huts after your first day walking. The track leads through the flat lakeside area and is a relatively easy way to start the circuit.
Alternatively, a water taxi can be taken from St Arnaud to the head of Lake Rotoiti and a tramp begining at the Lakehead/Coldwater Huts can be started.
Lakehead Hut is a serviced hut with heating and 30 bunk spaces. Coldwater hut is standard with six bunks and heating facilities.
Lakehead/Coldwater Huts to John Tait Hut
Approximate time: 5 hours
The track follows the fairly flat part of the Lower Travers Valley along the Travers River. The Valley begins to narrow and the track climbs up through beech forest, finally arriving at a grassey clearing where sits John Tait Hut.
Tait Hut can accomodate 30 trampers and has heating facilities.
John Tait Hut to Upper Travers Hut
Approximate time: 3 hours
This is a steeper part of the track, climbing up past Cupola Chasm and neding at Upper Travers Hut. The Hut sits in the shadow of Mt Travers and services 24 trampers with bunks and heating.
Upper Travers Hut to West Sabine Hut
Approximate time: 6 to 9 hours
Weather conditions on this part of the track can be an obstacle and walking up a steep, skree-covered portion is a challange. But the views from the alpine pass of Travers Saddle are well worth the effort. The descent to West Sabine Hut is also steep and can be precarious, so watch your step.
West Sabine Hut has 34 bunk spaces and heating.
West Sabine Hut to Sabine Hut
Approximate Time: 5 hours
Descending through Sabine valley, this part of the track is a chance to take it a little more easy after the tough climbing on previous days. The track crosses three flats and climbs up, then down through a gorge to join the river and finally bring you to Sabine Hut.
Sabine Hut is a 32 bunk hut with heating set in forest on the edge of Lake Rotoroa.
Sabine Hut to Mt Robert Carpark via Speargrass Track
Approximate time: 9 hours
Aside from an ascent to a small plateau, this is a fairly easy-going part of the circuit. The track follows the Robert Ridge along to Speargrass Hut, and then out to Mt Robert carpark, where you can find toilets and transport waiting for you if you've made prior arrangements.
Alternatively, you have several options beside the one mentioned above. You can choose to stay the night in Speargrass Hut which is about 5 to 6 hours walk from Sabine Hut, and make the final journey to Mt Robert carpark the following day. Many people also choose to do the difficult hike along the Robert Ridge, taking the track from Sabine Hut to Angelus Hut and then along to Bushline Hut and out to Mt Robert carpark.
One could also take a water taxi from Sabine Hut along Lake Rotoroa, bypassing the tramp back to Mt Robert carpark.
Note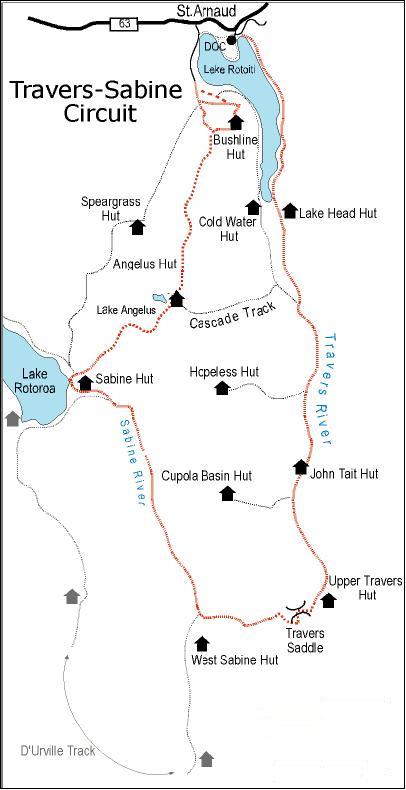 The Mole Tops Mole tops track to Mt. Misery and down Lake Rotoroa
Weather Update Weather forecast for Nelson next 5 days.
What to take Ideas on what to pack for the tramp (My packing list!)
Existing & Budget trips If you want to combine on an existing trip.
[- Track Descriptions -]